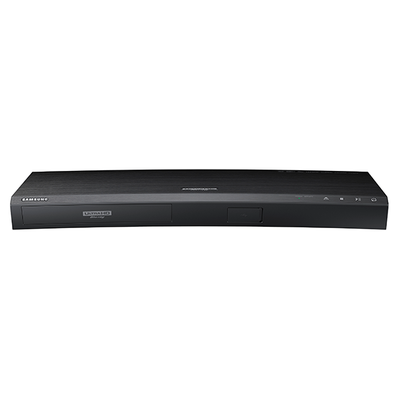 Samsung New and in stock now!
UBD-K8500

4K ULTRA HD
Play 4K Ultra HD movies at 4x the resolution of full 1080p HD, letting
you watch your favorite scenes with a level of detail and clarity like
never before.

Enjoy More Vivid and Breathtaking Color The Ultra HD Blu-ray Player offers twice the color range of existing conventional Blu-ray players and 64 times higher color expressions, surpassing the digital cinema standard. Enjoy realistic picture quality like never before.

Outstanding 4K Streaming ServiceStream the latest 4K movies to your living room on demand at high speeds*. Access a wide range of content from online providers such as Netflix and Amazon, as well as your favorite offline shows.

The Ultimate Universal Disc Player
The Ultra HD Blu-ray Player has outstanding compatibility, letting you play all the old music CDs, DVDs and Blu-ray discs that you have collected over the years. Now you can enjoy all your favorite movies in UHD quality.

---
---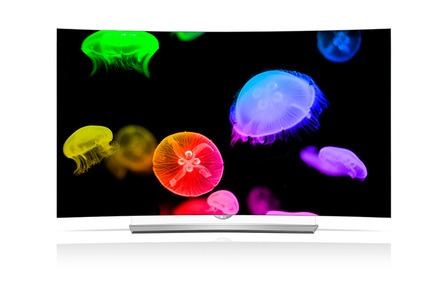 LG 65EG9600
65" Class (64.5" Diagonal) Curved OLED 4K Smart TV w/ webOS 2.0

Perfect Black LG OLED TV pixels switch off completely to achieve perfect black for infinite contrast, and contrast ratio is considered the key indicator of picture quality.

Intense Color LG OLED TVs display a wide gamut of accurate colors. And because colors look best against a pure black background, images are now more vibrant and detail


Wide Viewing Angle LG OLED TVs incomparable picture quality holds up even from wide viewing angles so now everyone can appreciate the color and clarity of OLED from any seat.



4K Picture Quality Select LG OLED TVs offer 4K resolution with an incredible 8.3M pixels, four times that of Full HD. The result? Breathtaking clarity and fine picture details.


---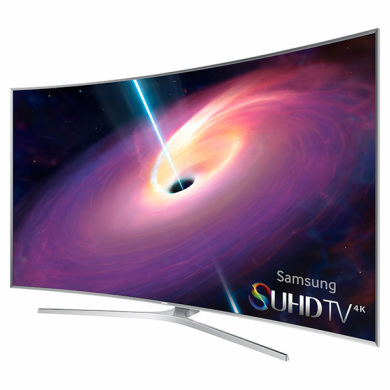 SAMSUNG

4K SUHD JS9500 Series Curved Smart TVThe Samsung 4K SUHD TV completely redefines the viewing experience with revolutionary Nano-crystal technology – revealing brilliant colors and details you never knew were there. Enjoy expanded brightness levels with Multi-Zone Full Array Backlighting, and watch and play your way with Smart TV.

Nano Crystal Color Bring your entertainment to vivid life. Reveal a brighter, more true-to-life picture, and a wider range of colors made visible with breakthrough nano-crystal color technology.

.65" is on display now.


---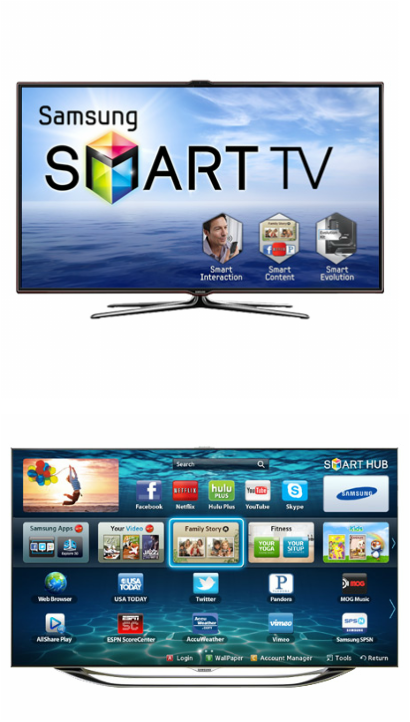 New 55" Class (54.6" Diag.) LED 7500 Series Smart TV
Smart TV lets you find and control exciting content in new and unexpected ways. Accessing Apps, Signature Services and browsing are easy. Voice and gesture controls, face recognition, the Smart Touch Remote Control and the Smart View Mobile App all provide unique ways to interact with your TV. Enjoy an exceptional picture and a TV experience like never before. Smart Interaction – Smart Content – Smart Evolution.

Faster Web Browsing with Dual Core Processing Samsung's Dual Core's processing speeds allow you to perform multiple tasks at the same time, such as using an app while downloading another one. It also enables faster web browsing while playing apps or TV programs that you've recently opened through the Recent History feature.

Ultra Clear Panel Sometimes you can't keep sunlight or house lights from shining right on your TV screen. With Samsung's Ultra Clear Panel, you can still get an amazing picture even with reflective light. Ultra Clear Panel absorbs most ambient light and virtually eliminates reflections. Ultra Clear Panel also helps make colors more vibrant with deeper blacks and enhanced contrast for crisper images and excellent shadow detail.


---
---

Sharp 80" Quattron LED TV

80" Class (80" diagonal) - More than double the screen area of a 55" Class
Quattron™ technology for a billion more colors
Smart TV with web browser
Built-in Wi-Fi
Full HD Active 3D
240Hz refresh rate
AquoMotion 480
The LC-80LE844U is part of SHARP'S large screen premium AQUOS® QUATTRON™ LED Smart TV line. This 80" Class (80" diagonal) model features the Quattron 1080p 3D full-array LED panel, delivering the most natural, vibrant picture quality. And with the addition of Quad Pixel Plus 2 and 3D depth enhancer, the picture features smoother color transitions and a more appealing 3D viewing experience. Built-in Wi-Fi and our intuitive SmartCentral user interface let you access and download today's most popular apps or browse the Internet – all without disrupting what you're watching.
By pioneering a technique to add a yellow subpixel to the traditional RGB pixel structure, AQUOS® Quattron™ LED TVs opened up a whole new world of billions of never-before-seen colors, from deeper Caribbean blues to the purest golds.
Quattron™ technology can display the largest color gamut available. That means a picture defined by a far richer and more vibrant palette capable of expressing the subtlest of hues.
---
---